BIKE ROAD > BAGNO DI ROMAGNA - BALZE - BAGNO DI ROMAGNA
Request Info
---
BAGNO DI ROMAGNA - BALZE - BAGNO DI ROMAGNA
ROAD
Bagno di Romagna - Balze
Lago di Acquapartita
Palazzo del Capitano
Info and start:
km: 50
difference in altitude: 1250 mt
bike: Road bike
track: asphalt
Departure:
piazza Bettino Ricasoli, Bagno di Romagna
---
Download KML file
Download GPX file
---
Route details
Bagno di Romagna - S. Piero in Bagno - Acquapartita - Alfero - Balze - Verghereto - Bagno di Romagna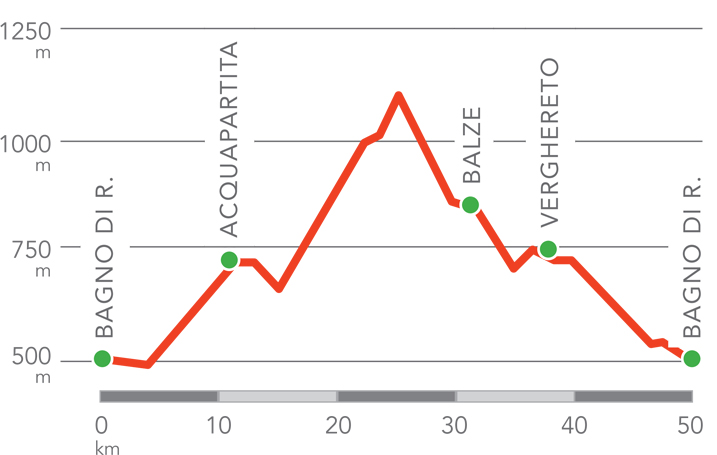 A panoramic itinerary, in the area where three regions meet: Emilia Romagna, Tuscany and Marche. Amid ridges and beech woods, along the slopes of Mount Fumaiolo, we will go past the springs of the Tevere river, which after 4 kilometres in the territory of Romagna crosses Tuscany, Umbria and Latium to flow into the Tyrrhenian Sea, after a route of 406 kilometres.
Not to be missed:
though travelling on asphalted roads, the route mostly covers wild environments and luxuriant nature.
PLACES OF INTEREST
1 -
Palazzo del Capitano (the Captain's Palace)

Testimony of the long florentine domination, which marked this border territory from 1404 to 1923. It is the seat of the Visitors Centre of the Foreste Casentinesi Park".
Find out more
2 -
Foreste Casentinesi National Park
One of the most impressive forest complexes in Europe, dotted with ancient roads which connect northern and central Italy.
Find out more
3 -
Lake Acquapartita

Endowed with quality fish fauna, it is the preferred destination for sport fishermen and excursionists heading for the woods in Mount Còmero.
Find out more
4 -
Alfero Waterfalls
Scenographic 32-metre high cascade also called the Trouts Cascade, due to the abundance of fish in its waters.
Find out more
5 -
Springs of the Tevere river
This is where is where the main river in central Italy originates, closely intertwined with the history of Rome, which it crosses before flowing into the Thyrrenian Sea. For hundreds of years it has been an important trade route (via di comunicazione commerciale) until the early 1900.
Find out more
6 -
the Primitivo Apiculture

Production of various types of honey, liquors and chocolate through a strictly artisanal processing.
Find out more
7 -
Natural thermal baths

The thermal waters of Bagno di Romagna have been renowned since Roman times, their origins being considered of divine origin. The fruit of a particular geothermiacal process, three thermal establishments are supplied by these waters.
Find out more
WELLNESS VALLEY HOSPITALITY
---
BIKE ROAD > BAGNO DI ROMAGNA - BALZE - BAGNO DI ROMAGNA
---
Wellness Valley in brief
Land of genuine hospitality and wellness, where people are welcomed with a smile
Enjoy your stay
in one of the selected wellness hotels
Selected facilities
History and Culture Time
Let yourselves be captured by art
World Heritage monuments
Bike lovers?
Romagna has been always devoted to cycling
Cycling routes
Let's discover Romagna
A unique land from the sea to the hinterland
Kilometres of coastline
Uncontaminated nature
Relax in its green parks
Parks and nature reserves
Fascinating challenges on the green
For all the golf lovers
Golf Club
Live Romagna
Events, Culture and Activities
Internationally interesting places
It's impossible to get bored
Great emotions, events and adrenaline
Amusement parks
Fitness programmes
For those who love wellness
Thermal resorts