BIKE OFFROAD > CANCELLINO - LA LAMA
Request Info
---
CANCELLINO - LA LAMA
OFFROAD
Foresta Casentinese (FC)
Funghi dell'appennino
Pista forestale Cancellino - Lama
Info and start:
km: 19
difference in altitude: 450 mt
bike: trekking bike
track: strade bianche
Departure:
Località Cancellino
43.797398, 11.900124
---
Download KML file
Download GPX file
---
Route details
Cancellino - Pista forestale - Fonte del Re - Fonte delle Cavalle - La Lama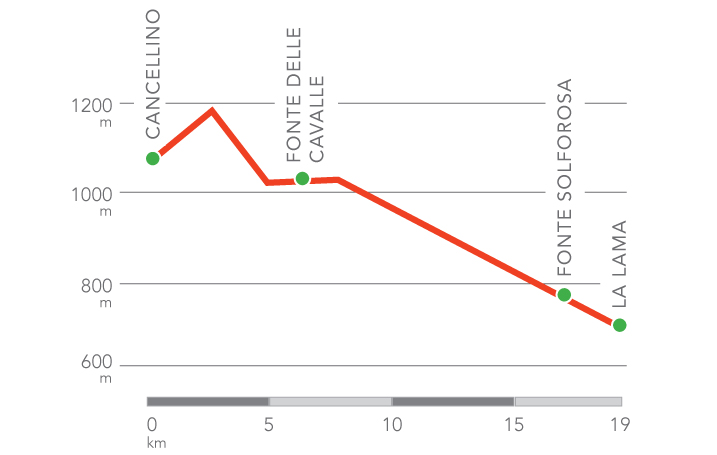 In the heart of the Casentinesi Forest Park, the itinerary faithfully reproposes the course of a Decauville railway, in use in the past century for deforestation and wood transport. A short and technically very easy route on a still finely conserved track, suitable for everyone despite the altitude and the conformation of the land. The return journey will follow the same itinerary.
Not to be missed:
after a short bike ride you can access the hundred-year-old beechwoods in the Park in an unspoilt environment where to feel all the power of undamaged nature. The Lama plateau the naturalistic heart of the Park, can be reached with very little effort.
PLACES OF INTEREST
1 -
The Mandrioli track

A panoramic road reaching far into the most typical landscapes of Romagna and Toscana. Interesting for its unique distinct geological elements , with the rhytmic succession of yellow-beige sandstone and light grey marlstone.
Find out more
2 -
Alta Via dei Parchi
A long track across the northern Appenines, reaching 10 provinces and uniting national and regional Parks. The route, around 500 km, follows one of the wildest and most suggestive itineraries through the park.
Find out more
3 -
The Casentinesi Forest National Park

One of the most impressive forest complexes in Europe, marked by ancient tracks connecting north and central Italy and dotted with Reserves and protected areas of great naturalistic and environmental value.
Find out more
4 -
Ancient Beechwoods
The enormous thousand-year-old beechwoods that can be found along the route are a wealth of biodiversity, where deers,fawns, and wolves find their ideal habitat but also endangered species like the black woodpecker and the barbastelle. The maximum longevity ever encountered in the National park for a beech tree is over 500 years.
Find out more
5 -
The Lama
The beautiful Lama plateau is surrounded by impenetrable mountains and is part of one of the most intact portions of the Casentinesi Reserves the vaste and wild Lama Forest.
Find out more
6 -
Sasso Fratino Integral Reserve

The first integral natural reserve established in Italy to conserve une of the few stretches of forest which has survived almost intact to this day thanks to the presence of rugged rocky slopes and the lack of access routes.
Find out more
WELLNESS VALLEY HOSPITALITY
---
BIKE OFFROAD > CANCELLINO - LA LAMA
---
Wellness Valley in brief
Land of genuine hospitality and wellness, where people are welcomed with a smile
Enjoy your stay
in one of the selected wellness hotels
Selected facilities
History and Culture Time
Let yourselves be captured by art
World Heritage monuments
Bike lovers?
Romagna has been always devoted to cycling
Cycling routes
Let's discover Romagna
A unique land from the sea to the hinterland
Kilometres of coastline
Uncontaminated nature
Relax in its green parks
Parks and nature reserves
Fascinating challenges on the green
For all the golf lovers
Golf Club
Live Romagna
Events, Culture and Activities
Internationally interesting places
It's impossible to get bored
Great emotions, events and adrenaline
Amusement parks
Fitness programmes
For those who love wellness
Thermal resorts