WALKING > Cesena Urban Trek
Request Info
---
Cesena Urban Trek
Walking
Cesena Urban Trek
Biblioteca Malatestiana Cesena
Piazza del Popolo Cesena
Info and start:
km: 12,8
altitude: 223 mt
category: walking
surface: asphalt
Departure point:
Piazza Almerici, Cesena
44.138309, 12.243790
---
Download KML file
Download GPX file
---
Route details
Piazza Almerici – Parco della Rimembranza – Via D. Minzoni – Rio Eremo – Via del Monte – Via delle Scalette – Corso Comandini - Piazza Almerici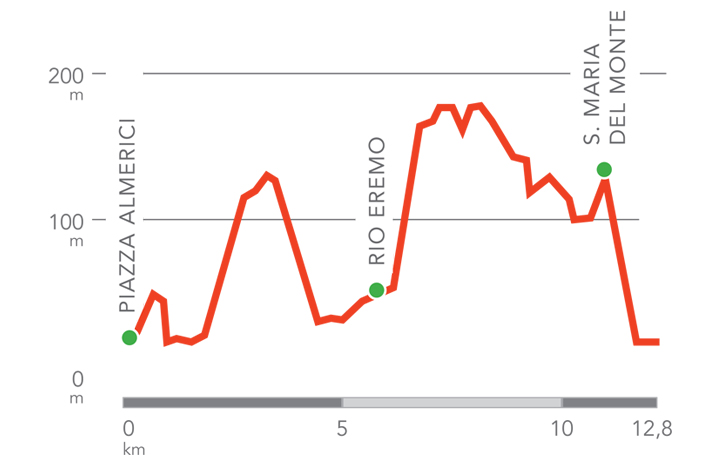 In a short walk from the historical centre you can get to the nearest hills behind the city and the Gessi park, surrounded by greenery, immersed in the quiet of nature and distinguished by the beauty of the panoramas which have made the "Gessi" park, the queen of walks in Cesena.
Not to be missed because:
in a few long strides from the historical town centre with its legacies from the Malatesta era, to the nearest hills rich in vegetation and coltivations where you can gaze out over the Riviera.
PLACES OF INTEREST
1 -
The Malatesta Library

One of the most significant examples of fourteenth century Italian libraries. The first public library in italy and Europe, it has remained unchanged and visitors can find it as it was five centuries ago. UNESCO has recognized its cultural importance putting it, in number one position in Italy, in the Memory of the World Register.
Discover more
2 -
Piazza del Popolo

The square has been well known since ancient times, when the old Emilia road crossed it on the route from Rimini to Piacenza.
Discover more
3 -
The Malatesta Fortress and Rimembranza Park

The fortress is characterized by its majestic mass, its panoramic terraces and suggestive walks along its inside walls.
Discover more
4 -
The Gessi route

An itinerary of over 20 km which offers suggestive glimpses of panoramas, with the possibility to have a break in areas with facilities. The route is completely signposted and is included in the project "Muoviti che ti fa bene"(movement is good for you), for the promotion of sports activity in the green areas of the city.
Pictures
5 -
Nectarine Peaches Igp
Vitamins and potassium are among the nutritional "musts" of this velvety fruit which, with the Igp seal can only be sold with a specific sugar content.
Discover more
6 -
The Santa Maria del Monte Abbey
A complex of several environments which originate from the year 1000, with a conspicuous collection of votive tablets.
Discover more
7 -
The Bonci Theatre

One of the most prestigious, historical theatres in Italy and a perfect example of the Neoclassical style.
Discover more

WELLNESS VALLEY HOSPITALITY
---
WALKING > Cesena Urban Trek
---
Wellness Valley in brief
Land of genuine hospitality and wellness, where people are welcomed with a smile
Enjoy your stay
in one of the selected wellness hotels
Selected facilities
History and Culture Time
Let yourselves be captured by art
World Heritage monuments
Bike lovers?
Romagna has been always devoted to cycling
Cycling routes
Let's discover Romagna
A unique land from the sea to the hinterland
Kilometres of coastline
Uncontaminated nature
Relax in its green parks
Parks and nature reserves
Fascinating challenges on the green
For all the golf lovers
Golf Club
Live Romagna
Events, Culture and Activities
Internationally interesting places
It's impossible to get bored
Great emotions, events and adrenaline
Amusement parks
Fitness programmes
For those who love wellness
Thermal resorts