BIKE ROAD > CESENATICO - SOGLIANO - CESENATICO
Request Info
---
CESENATICO - SOGLIANO - CESENATICO
TREKKING
Cesenatico Sogliano
Formaggio di fossa
Longiano
Info and start:
km: 66,5
difference in altitude: 610 mt
bike: Road bike
track: asphalt
Departure:
Piazza Andrea Costa, Cesenatico
---
Download KML file
Download GPX file
---
Route details
Cesenatico - Sant'Angelo - Savignano sul Rubicone - Montalbano - Borghi - Sogliano al Rubicone - Roncofreddo - Longiano - Cesenatico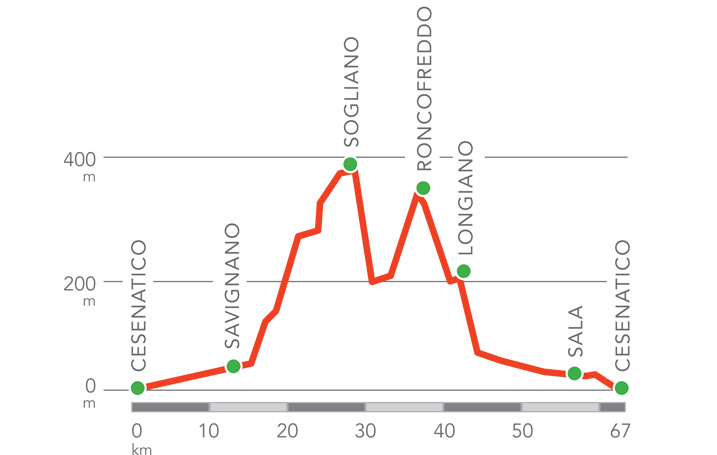 Three hills are enlivened by the three towns proposed by this itinerary which fairly distributes its charm among nature, history and gastronomy. A sea breeze accompanies the gentle uphill slope to the village of Sogliano al Rubicone. Following an encounter with the local speciality - Fossa cheese – we will continue downhill to the Rubicone valley to "conquer" the Longiano hill, with panoramic views over the Riviera. A long ride across the valley will "loosen your legs" before arriving at the conclusion of the route, after a day going uphill.
Not to be missed:
the range of themes proposed, the history, enogastronomy, culture, framed by spectacular views and panoramas, gives an insight into what Romagna can offer to its visitors.
PLACES OF INTEREST
1 -
The Leonardo da Vinci canal Harbour

Cesenatico's canal harbour as we know it today was built in 1502 from the original design by Leonardo da Vinci, and according to the basis of a pre-existing canal harbour. For centuries it has been the town meeting place.
Find out more
2 -
The Maritime Museum
Unique in Italy with its floating section, it houses ten boats, complete with their sails of various types on water.
Find out more
3 -
Moretti's House

The poet Marino Moretti (Cesenatico 1885-1979) became part of biking literature with the book "Parole e musica"("Words and music") which contains a brief chapter "Non so andare in bicicletta"( " I cannot ride a bicycle").
Find out more
4 -
The Wine Route in Forlì and Cesena
A tool for the promotion and ehnancement of enogastronomic tourism, proposing "stocks for gourmands", typical and high-quality products present on the territory.
Find out more
5 -
Fossa cheese
The gastronomic symbol of Sogliano al Rubicone, obtained the Dop certification in 2009. This certification can be obtained through a long, laborious but above all original process.
Find out more
6 -
The Malatesta Castle and Balestra Foundation

In ancient times dwelling of the Malatesta family, the Castle was the seat of the Town Hall of Longiano until 1989, today it is the permament seat of the Tito Balestra Foundation, one of the richest collections of modern and contemporary art in Emilia Romagna.
Find out more
7 -
The Museum of the Territory

Founded thanks to private donations, it portrays the everyday life of this land starting from '600 to the present day. Structured on the themes of crafts and domestic work
Find out more
WELLNESS VALLEY HOSPITALITY
---
BIKE ROAD > CESENATICO - SOGLIANO - CESENATICO
---
Wellness Valley in brief
Land of genuine hospitality and wellness, where people are welcomed with a smile
Enjoy your stay
in one of the selected wellness hotels
Selected facilities
History and Culture Time
Let yourselves be captured by art
World Heritage monuments
Bike lovers?
Romagna has been always devoted to cycling
Cycling routes
Let's discover Romagna
A unique land from the sea to the hinterland
Kilometres of coastline
Uncontaminated nature
Relax in its green parks
Parks and nature reserves
Fascinating challenges on the green
For all the golf lovers
Golf Club
Live Romagna
Events, Culture and Activities
Internationally interesting places
It's impossible to get bored
Great emotions, events and adrenaline
Amusement parks
Fitness programmes
For those who love wellness
Thermal resorts