BIKE OFFROAD > COMACCHIO - RAVENNA
Request Info
---
COMACCHIO - RAVENNA
OFFROAD
Salina di Comacchio
Anguille di Comacchio
Mausoleo di Teodorico
Info and start:
km: 65
difference in altitude: flat land
bike: trekking bike
track: cycling paths, unsurfaced roads, pinewood paths.
Departure:
via Trepponti, 2, Comacchio (Fe)
---
Download KML file
Download GPX file
---
Route details
Comacchio - S. Alberto - Marina Romea - Porto Corsini - Marina di Ravenna - Punta Marina - Ravenna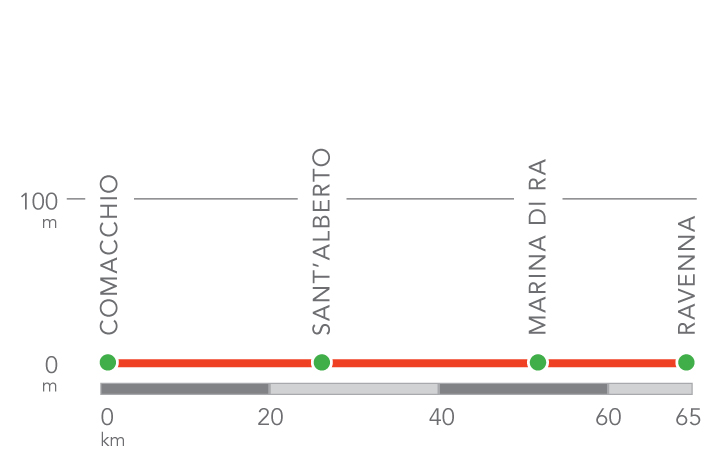 An itinerary through the heart of the Delta del Po Park: along the Comacchio Valleys, river banks and coastal pinewoods, to reach Ravenna, the capital of Byzantine art and treasure chest to be discovered, with 8 monuments being listed as Unesco World Heritage sites. A route scheduled as part of the AdriaBike itinerary, connecting Ravenna to Kranjska Gora.
Not to be missed:
an off-road route on flat land, yet a respectable cycling experience; both for the variety of road surfaces, and the natural- environmental one.
PLACES OF INTEREST
1 -
Trepponti Bridge

The most representative monument in Comacchio, built in 1638, it used to be the fortified town gate.
Find out more
2 -
Comacchio Valleys
Lagoon and marsh area stretching over more than 13,000 acres, from Comacchio to the Reno river. In ancient times these Valleys were filled with fresh water, but were gradually filled by sea water, defining the landscape of the saline water valleys that they still maintain today.
Find out more
3 -
Ferrara food and wine trails

A succession of foggy cultivated crop fields, rice fields and watercourses, brackish valleys and overtowering buildings from the Este family period, are the frame to wine-growing and farming production, agri-food activities and enogastronomic specialities. Typical products and services from the territory of Ferrara, in the framework of an eco-compatible economy.
Find out more
4 -
Boscoforte Peninsula
A string of dunes dating back to the Etruscan Age, stretches along the left bank of the Reno river for about 6 km. The birdlife is extremely rich: this is a privileged place for nesting, and for the passage of plovers, sheldrakes, spoonbills and flamingoes.
Find out more
5 -
NatuRa Sant'Alberto Museum
NatuRa is the Museum of Natural Sciences of the town of Ravenna and acts as the Visitors Centre at the Delta del Po Park. The starting point for free excursions and guided tours, it offers didactic materials and documentation.
Find out more
6 -
Porto Corsini Coastal Dune Natural Reserve

Dune area which represents an important biotope for the presence of endangered plant species. It covers a small coastal area behind dunes on 2.5 acres, included in the Delta del Po Park.
Find out more
7 -
Pinewoods in Ravenna

Coastal pinewood areas in Ravenna are woodland areas close to the coastal strip and are part of the wider Natural Reserve of Pinewoods in Ravenna.
Find out more
8 -
Mausoleum of Theodoric

An icon of Ravenna's art, it is one of the most extraordinary examples of Ostrogothic monumental art, it is ranked among UNESCO World Heritage Sites, the only site void of mosaics in Ravenna.
Find out more
WELLNESS VALLEY HOSPITALITY
---
BIKE OFFROAD > COMACCHIO - RAVENNA
---
Wellness Valley in brief
Land of genuine hospitality and wellness, where people are welcomed with a smile
Enjoy your stay
in one of the selected wellness hotels
Selected facilities
History and Culture Time
Let yourselves be captured by art
World Heritage monuments
Bike lovers?
Romagna has been always devoted to cycling
Cycling routes
Let's discover Romagna
A unique land from the sea to the hinterland
Kilometres of coastline
Uncontaminated nature
Relax in its green parks
Parks and nature reserves
Fascinating challenges on the green
For all the golf lovers
Golf Club
Live Romagna
Events, Culture and Activities
Internationally interesting places
It's impossible to get bored
Great emotions, events and adrenaline
Amusement parks
Fitness programmes
For those who love wellness
Thermal resorts