BIKE OFFROAD > FAENZA - BRISIGHELLA – FAENZA
Request Info
---
FAENZA - BRISIGHELLA – FAENZA
OFFROAD
Faenza - Brisighella, pedalando sui calanchi
Piazza del popolo Faenza
Rocca di Brisighella
Info and start:
km: 52,5
difference in altitude: 670 mt
bike: trekking bike
track: asphalt, unsurfaced roads
Departure:
Faenza Railway station, Via Roma
44°17′36″N 11°52′59″E
---
Download KML file
Download GPX file
---
Route details
Faenza - Castel Raniero - Pergola - Villa Vezzano - Colle del Monticino - Brisihgella -Sarna - Faenza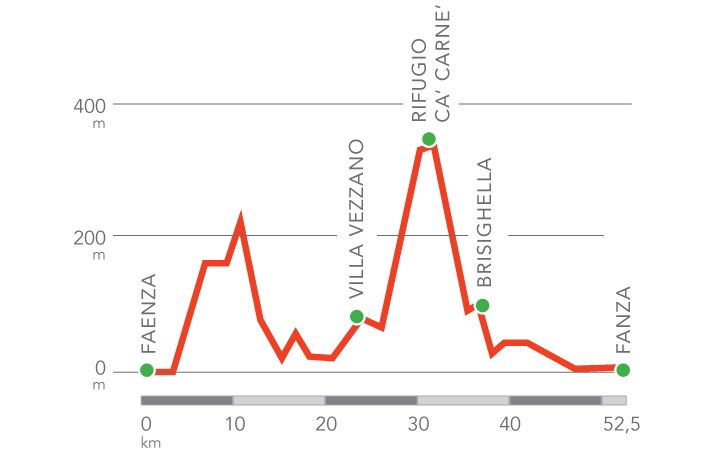 The town of ceramics is bordered by the first line of hills and reaching the nearby Brisighella may seem too easy. But it is worth reaching the top of the first ridges interrupting the plain to observe the conformation of gypsums and gullies of the Vena del Gesso Park. Without forgetting the two small towns with ancient origins, representing renowned historical testimonies and worthy of deeper investigation.
Not to be missed:
the emotional experience of pedalling along a gully, rewarded by tastings at the Outdoor Olive oil Museum in Brisighella.
PLACES OF INTEREST
1 -
The Ceramics Museum

Collections in the museum range from ancient civilizations, such as the Precolombian, Eastern and Islamic ones, to Italian ceramics from Medieval times to 1800, works from 1900 and Contemporary works by artists of International renown.
Find out more
2 -
Milzetti Palace
Housed in an extremely refined historical building, the National Neoclassic age Museum in Romagna.
Find out more
3 -
Vena del Gesso Regional Park

A spectacular grey-silver ridge interrupting the first gentle rolling hills giving the landscape a unique outlook. The Vena del Gesso (Gypsum vein) Romagnola is the only entirely geological formation entirely made up of chalk in Europe.
Find out more
4 -
Visitors Centre Rifugio Cà Carnè
An information point at the centre of the Vena del Gesso park, it also proposes a naturalistic museum dedicated to the fauna in the Park.
Find out more
5 -
Wine and dine in Faenza
An enogastronomic itinerary along 150 km crossing the hilly valleys of the Senio, Lamone and Marzeno river, on the Tuscan borders of Romagna. Among the products being promoted there are DOC wines and DOP products with other renowned excellences.
Find out more
6 -
Brisighella

A medieval Borgo embedded in nature, a spa resort and high-quality enogastronomic district, Brisighella has all the potential to be presented as a town for fine living.
Find out more
7 -
Outdoor Olive-oil Museum

Olive grove cultivation in Brisighella dates back to very ancient times: olive trees were already known, appreciated and valued back in Roman times. The sought-after extra-virgin olive-oil "Brisighello", possiede il sigillo has been DOP certfied since 1996.
Find out more
8 -
Brisighella Heart Study

For forty years the population of the Municipality of Brisighella has been the subject of a study on risk factors for cardiovascular and metabolic diseases (diabetes, hypercholesterolemia, hyperuricemia, etc.).
Find out more
WELLNESS VALLEY HOSPITALITY
---
BIKE OFFROAD > FAENZA - BRISIGHELLA – FAENZA
---
Wellness Valley in brief
Land of genuine hospitality and wellness, where people are welcomed with a smile
Enjoy your stay
in one of the selected wellness hotels
Selected facilities
History and Culture Time
Let yourselves be captured by art
World Heritage monuments
Bike lovers?
Romagna has been always devoted to cycling
Cycling routes
Let's discover Romagna
A unique land from the sea to the hinterland
Kilometres of coastline
Uncontaminated nature
Relax in its green parks
Parks and nature reserves
Fascinating challenges on the green
For all the golf lovers
Golf Club
Live Romagna
Events, Culture and Activities
Internationally interesting places
It's impossible to get bored
Great emotions, events and adrenaline
Amusement parks
Fitness programmes
For those who love wellness
Thermal resorts