BIKE OFFROAD > GORO – COMACCHIO
Request Info
---
GORO – COMACCHIO
OFFROAD
Comacchio
Abbazia di Pomposa
Fenicotteri del Delta
Info and start:
km: 32
difference in altitude: flat land
bike: trekking bike
track: cycling paths, unsurfaced roads, pinewood paths
Departure:
Via Nuova, Goro (Fe)
---
Download KML file
Download GPX file
---
Route details
Goro - Bosco della Mesola - Volano - Lidi di Comacchio - Porto Garibaldi - Comacchio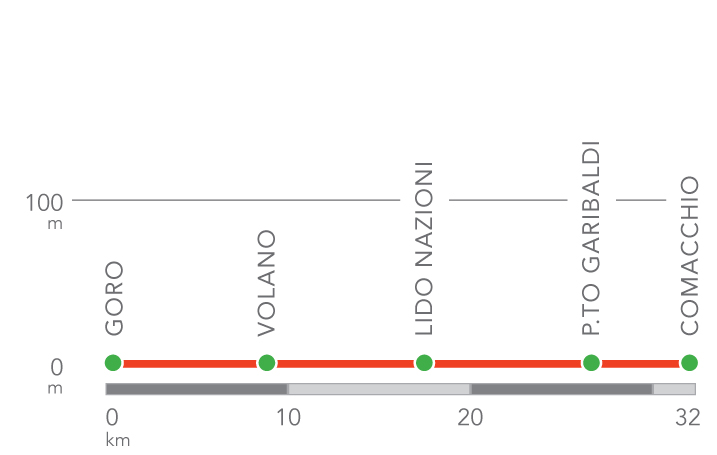 From the Sacca di Goro and the millenary Abbey of Pomposa to the beaches of Ferrara, through oasis and natural reserves to reach the small town of Trepponti in the heart of the characteristic Comacchio Valleys. A route scheduled as part of the AdriaBike itinerary, connecting Ravenna to Kranjska Gora.
Not to be missed:
the uniqueness of oases and unusual natural environments, interposing ports and small villages where fishing still marks the life of its inhabitants.
PLACES OF INTEREST
1 -
Sacca di Goro

One of the largest brackish lagoons on the Upper Adriatic Coast. The ecological uniqueness of this environment allows for the establishing and the presence of important communities of plant and animal life. Goro is an important fishing port in the Adriatic, from which several tourist motorships depart to discover the Po Delta.
Find out more
2 -
The Mesola Wood Natural Reserve
The wood is what remains of a vast thermofilic forest, which dominated the areas emerging from Marche on the Northern Adriatic Coast. The main faunistic feature is the presence of two species of ungulates: fallow deers and roe-deers.
Find out more
3 -
Pomposa Abbey (detour)

Built in the 9th century it is a cornerstone in the medieval artistic history of the Padan Plain. Originally surrounded by the waters of the Po river and the sea, today it is a treasure chest with frescoes by Giotto's school and mosaic floorings.
Find out more
4 -
Canneviè Oasis
A 67-acre wetland, a true paradise for naturalists and birdwatchers, with observation points and paths from which to discover and admire a rich birdlife.
Find out more
5 -
The mouth of the river Po in Volano
A heterogeneous collection of very different environments, ranging from pinewoods to saline lagoons, from uncultivated areas to sandbars and beaches in Lido di Volano. A cycling path can be found in the Scannone di Volano, a strip of land stretching along two kilometres, covered by maritime pinetrees and ilex bushes, a panoramic point on the coastline.
Find out more
6 -
Ferrara food and wine trails

A succession of foggy cultivated crop fields, rice fields and watercourses, brackish valleys and overtowering buildings from the Este family period, are the frame to wine-growing and farming production, agri-food activities and enogastronomic specialities. Typical products and services from the territory of Ferrara, in the framework of an eco-compatible economy.
Find out more
7 -
The Pickling Factory in Comacchio

A cultural and enogastronomic site, where there is also a Visitors Centre at the Delta del Po Park. Here the whole processing cycle of anchovies can be viewed, smelt fish and above all eels, the culinary icon of Comacchio.
Find out more
---
BIKE OFFROAD > GORO – COMACCHIO
---
Wellness Valley in brief
Land of genuine hospitality and wellness, where people are welcomed with a smile
Enjoy your stay
in one of the selected wellness hotels
Selected facilities
History and Culture Time
Let yourselves be captured by art
World Heritage monuments
Bike lovers?
Romagna has been always devoted to cycling
Cycling routes
Let's discover Romagna
A unique land from the sea to the hinterland
Kilometres of coastline
Uncontaminated nature
Relax in its green parks
Parks and nature reserves
Fascinating challenges on the green
For all the golf lovers
Golf Club
Live Romagna
Events, Culture and Activities
Internationally interesting places
It's impossible to get bored
Great emotions, events and adrenaline
Amusement parks
Fitness programmes
For those who love wellness
Thermal resorts