WALKING > Rimini Urban Trek
Request Info
---
Rimini Urban Trek
Walking
Rimini Walk Full
Arco d'Augusto Rimini
Ponte di Tiberio Rimini
Info and start:
km: 8
difference in altitude: flat land
category: walking
track: asphalt
Departure:
Fellini park, Marina Centro
44.064702, 12.558666
---
Download KML file
Download GPX file
---
Route details
Fellini Park - Lungomare Tintori – Renzi Park - Bastioni Orientali - Piazza Tre Martiri - Piazza Cavour - XXV Aprile Park - Piazza Ferrari – Fellini Park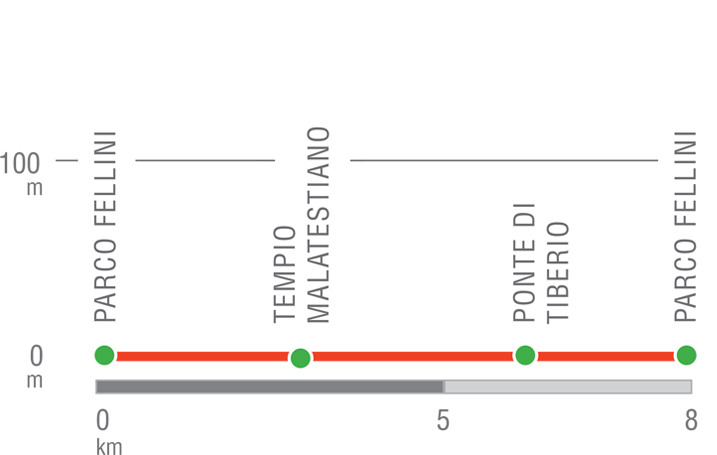 A tour in the past and recent history of Rimini, along the landmarks of the town, connected between them by parks and green areas bordering the historical centre. A stroll that is a historical and cultural rivisitation to be carried out step by step, with the accent on "green".
NOT TO BE MISSED:
the rigorous and austere Malatesta Temple and the picturesque Pescheria Vecchia (the Old Fish Market), a unique contrast between two buildings situated at a few metres distance from one another.
PLACES OF INTEREST
1 -
the Roman Amphitheatre

Erected during the 2nd century AD and mainly used for gladiator games, it marked a step forward in the city's "ranking".
Find out more
2 -
Arch of Augustus

An icon of the Roman period in Rimini, it was the ancient town gate.
Find out more
3 -
The Malatesta Temple

This shrine of Renaissance architecture built by Leon Battista Alberti, contains works by Giotto, Piero della Francesca and other Italian artists from the 15th century.
Find out more
Video
4 -
the Pescheria Vecchia (the Old Fish Market)

Built in 1747, presents itself as an open gallery with two arcades (loggiato a due organi). On its corners, the four small dolphin statues with jets sprouting water used to be fountains for cleaning fish.
Find out more
5 -
the Sismondo Castle
An impressive building, with its large square towers and powerful sloping walls. Sigismondo Malatesta died here in 1468.
Find out more
6 -
the Tiberius Bridge
Completed in 21 AD and starting point of the ancient Via Emilia, it still enables the crossing of the Marecchia river, the ancient Ariminum which gave its name to the town.
Find out more
7 -
the Surgeon's House

A vast archaelogical complex dating back to the Roman period, where sculptures, decorations and technical instruments belonging to an important doctor from the 2nd century AD have been brought to light.
Find out more
Video

WELLNESS VALLEY HOSPITALITY
---
WALKING > Rimini Urban Trek
---
Wellness Valley in brief
Land of genuine hospitality and wellness, where people are welcomed with a smile
Enjoy your stay
in one of the selected wellness hotels
Selected facilities
History and Culture Time
Let yourselves be captured by art
World Heritage monuments
Bike lovers?
Romagna has been always devoted to cycling
Cycling routes
Let's discover Romagna
A unique land from the sea to the hinterland
Kilometres of coastline
Uncontaminated nature
Relax in its green parks
Parks and nature reserves
Fascinating challenges on the green
For all the golf lovers
Golf Club
Live Romagna
Events, Culture and Activities
Internationally interesting places
It's impossible to get bored
Great emotions, events and adrenaline
Amusement parks
Fitness programmes
For those who love wellness
Thermal resorts