BIKE ROAD > Rimini - San Leo
Request Info
---
Rimini - San Leo
ROAD
Verucchio
Rimini San Leo
Rocca di San Leo
Info and start:
km: 39
difference in altitude: 880 mt
type of bike: road bike
track: tarred road
Departure:
Rimini Railway station- Piazzale Cesare Battisti, 1
---
Download KML file
Download GPX file
---
Route details
Rimini - Covignano - Verucchio - Pietracuta - San Leo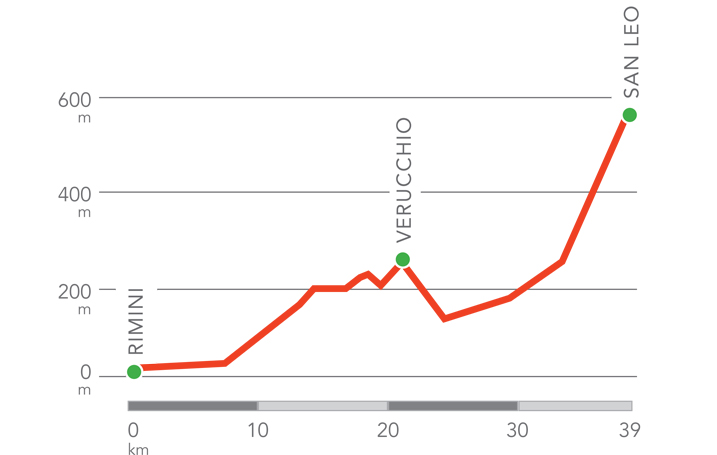 Right next to Covignano, the closest hill to the town, a series of gentle ups and downs leads to the town of Verucchio, the " cradle" of the Malatesta family, with its art and wine. After this first rich stop which is worth a visit, and following a descent to the heart of Valmarecchia, a longer though continual road winds uphill through to the bastion of San Leo. Situated on an enormous, impassable rock it can only be accessed through a road carved into the rock. An itinerary for refined palates, for taste and bike lovers.
Not to be missed:
moving uphill towards San Leo, the valleys and corners of Valmarecchia offer a journey through time. Just like pedalling inside a painting by Piero della Francesca.
PLACES OF INTEREST
1 -
The Malatesta Temple

This shrine of Renaissance architecture built by Leon Battista Alberti, contains works by Giotto, Piero della Francesca and other Italian artists from the 15th century.
Find out more
2 -
The Arch of Augustus
An icon of the Roman period in Rimini, it was the ancient town gate.
Find out more
3 -
Sismondo Castle

An impressive building, with its large square towers and powerful sloping walls. Sigismondo Malatesta died here in 1468.
Find out more
4 -
The Parish Church of San Lorenzo in Monte

It is an ancient parish church built on the ruins of an ancient romanesque temple and already in existence in the 5th century AD. The first of a series of historical parish churches scattered throughout Valmarecchia.
Photos
5 -
Wine and taste Colli di Rimini
It gathers together olive mills, wine producers, wine cellars, farmhouses, restaurants, artisan shops, public institutions and trade associations, a route along the beaches on the Adriatic coast to the historical towns in the Conca and Marecchia valleys.
Find out more
6 -
Verucchio
The ancient cradle of the Malatesta family, it is nowadays proclaimed as one of the most beautiful towns in Italy, for the richness of its historical, cultural and enogastronomic elements.
Find out more
7 -
Cà Brigida WWF Oasis

17 acres of greenery hosting roe deers, hedgehogs, badgers, birds of prey and various species of amphibians and reptiles.
Find out more
9 -
San Leo

Wonderful arts capital, cited by Dante Alighieri in the Divine Comedy, it is the heart of the historical Montefeltro region.
Find out more
WELLNESS VALLEY HOSPITALITY
---
BIKE ROAD > Rimini - San Leo
---
Wellness Valley in brief
Land of genuine hospitality and wellness, where people are welcomed with a smile
Enjoy your stay
in one of the selected wellness hotels
Selected facilities
History and Culture Time
Let yourselves be captured by art
World Heritage monuments
Bike lovers?
Romagna has been always devoted to cycling
Cycling routes
Let's discover Romagna
A unique land from the sea to the hinterland
Kilometres of coastline
Uncontaminated nature
Relax in its green parks
Parks and nature reserves
Fascinating challenges on the green
For all the golf lovers
Golf Club
Live Romagna
Events, Culture and Activities
Internationally interesting places
It's impossible to get bored
Great emotions, events and adrenaline
Amusement parks
Fitness programmes
For those who love wellness
Thermal resorts