BIKE ROAD > SANTA SOFIA - PREMILCUORE - SANTA SOFIA
Request Info
---
SANTA SOFIA - PREMILCUORE - SANTA SOFIA
ROAD
Santa Sofia
Valle del Bidente
Lago di Ridracoli
Info and start:
km: 54,5
difference in altitude: 980 mt
bike: Road bike
track: asphalt
Departure:
Via Nefetti, Santa Sofia
43.947322, 11.908277
---
Download KML file
Download GPX file
---
Route details
Santa Sofia - Pianetto - Galeata - Passo Cento Forche - Premilcuore - Fiumicello - Corniolo - Santa Sofia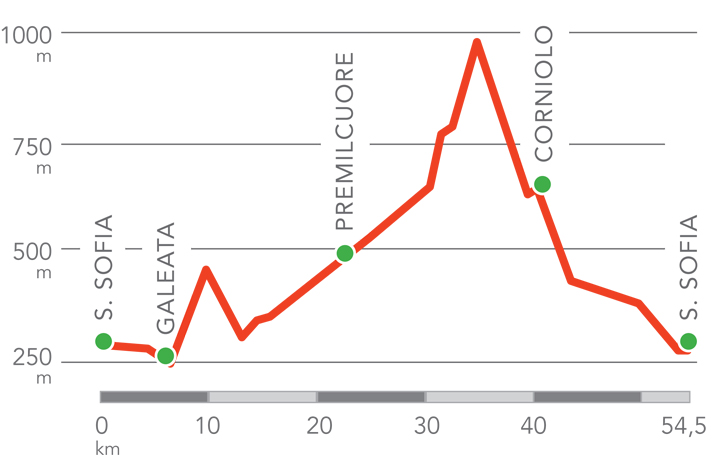 Pedalling between the valleys of the Bidente and Rabbi rivers, in the pre-appennine stretch of Tuscan Romagna, the historical region which is geographically and culturally Romagnola, but has historically been governed, by Florence since the end of 1400. An itinerary made difficult by two long uphill scope with, however, at intervals long stretches of valley bottoms;an ideal situation to enjoy landscapes filled with history, ancient castles and small remote hamlets along the way.
Not to be missed:
after Fiumicello one of the very few asphalted though wild stretches in the Park, which opens itself to discovery in its most authentic part: its natural woods, the signs of ancient civilizations like humpbacked bridges , ancient springs and mills.
PLACES OF INTEREST
1 -
Santa Sofia

The seat of the Community of the Casentinesi Forest Park, it has inherited great artistic and cultural liveliness from Tuscan Romagna in the grand-ducal period, which has projected it towards the contemporary world.
Find out more
2 -
The Wine Route in Forlì and Cesena
Instrument for the promotion and development of quality products and the enhancement of enogastronomic tourism in the province through itinaries, experiences and events.
Find out more
3 -
Galeata, the archaeological area

This small town has been marked by the passage of several artistic cultures, mainly of Tuscan influence. In the town centre the Municipal Museum can be found which gathers archaeological finds from the pre-Roman age onwards.
Find out more
4 -
Premilcuore
A small perfectly preserved medieval town. The Rabbi river which flows through it is suitable for swimming due to the wide river basins that are intercalated with the ancient roman bridges - between one waterfall basin and another.
Find out more
5 -
The old Mengozzi Mill
An important testimony of mountain culture and of the pact between man and nature. Inside it you can admire ancient millstone still fully functioning.
Find out more
6 -
The National Casentinesi Forest Park

One of the most impressive forest complexes in Europe, marked by extremely ancient routes connecting northern and central Italy and dotted with Reserves and protected areas of great naturalistic and environmental value.
Find out more
7 -
The Valbonella Botanic Garden

A reconstruction of the main vegetation in the environment of the Appennine, with a rich collection of floral species.
Find out more
8 -
Ridracoli (detour)

Lake Ridracoli, similar to a fjord winds through over three kilometres through the Bidente valley. Contained by a massive dam, the basin supplies water to all of Romagna.
Find out more
---
BIKE ROAD > SANTA SOFIA - PREMILCUORE - SANTA SOFIA
---
Wellness Valley in brief
Land of genuine hospitality and wellness, where people are welcomed with a smile
Enjoy your stay
in one of the selected wellness hotels
Selected facilities
History and Culture Time
Let yourselves be captured by art
World Heritage monuments
Bike lovers?
Romagna has been always devoted to cycling
Cycling routes
Let's discover Romagna
A unique land from the sea to the hinterland
Kilometres of coastline
Uncontaminated nature
Relax in its green parks
Parks and nature reserves
Fascinating challenges on the green
For all the golf lovers
Golf Club
Live Romagna
Events, Culture and Activities
Internationally interesting places
It's impossible to get bored
Great emotions, events and adrenaline
Amusement parks
Fitness programmes
For those who love wellness
Thermal resorts