BIKE OFFROAD > Tour San Clemente - Valconca
Request Info
---
Tour San Clemente - Valconca
OFFROAD
San Clemente
Valconca
Tour San Clemente - Valconca
Info and start:
km: 26
difference in altitude: 560 mt
bike: trekking bike
Road surface: unmade roads, asphalt.
Signs: Percorso DiVino
Departure:
Via Don Domenico Masi, San Clemente
43.932850, 12.624770
---
Download KML file
Download GPX file
---
Route details
San Clemente - Parco del Conca - Cevolabbate - Agello - Castelleale - S. Andrea in Casale - San Clemente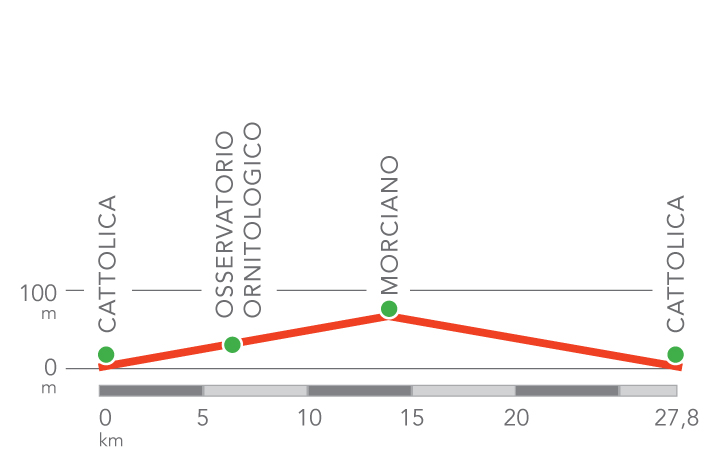 The Valconca is a green and luxuriant territory. Wetland areas are abundant and its fertile lands have always produced an abundance of wheat and fine wines. The Malatesta hamlet of San Clemente is situated at the centre of this territory, which offers its guests a rich mix of hills, countryside, vineyards and olive groves, fortresses and fortified hamlets with a rich past.
Not to be missed:
from the riverside bike trail easy and swift on unsurfaced uphill roads on the surrounding hills , to reach spectacular panoramic spots on the nearby Riviera. A varied route, featuring a nature that is the cradle of quality food and wines.
PLACES OF INTEREST
1 -
S. Clemente – Fourteenth century Church

First built in 1370, this Church is enclosed within the walls of the Malatesta castle. The last construction dates back to 1834 was the work of Luigi Poletti who was considered in those years as the most famous architect in the Pontifical State.
Find out more
2 -
The Protected Landscape of the Conca Stream
The area encompasses the riverbed of the Conca stream and a bi.lateral stretch of territory around it, up to the border with the Marche region. Riverside woods and above all marshy areas host a rich community of nesting waterbirds.
Find out more
3 -
Old mills in Valconca

In the Valconca, water mills have been among the most widely used machines in production activities since early Medieval times. This luxuriant valley rich in water is dotted with ancient, partly renovated mills.
Find out more
4 -
Agello
The Agello fortified farm is a tiny little fortified hamlet immersed in beautiful countryside (XIV century). Of the ancient walled hamlet, currently the object of public and private restoration work, only the ruins of a corner- polygonal tower to the South and a square tower to the Northeast still remain, while the remaining fortified structures have been incorporated with minor buildings erected next to the Malatesta complex.
Find out more
5 -
Castelleale
A unique testimony of the Malatesta domination: the fortified farm and Villa in Castelleale,a rare example of fortified rural settlement. It was built in 1388 by Leale Malatesta, at that time bishop of Rimini.
Find out more
6 -
The Wine and dine route of the hills of Rimini

It gathers together olive mills, wine producers, wine cellars, farmhouses, restaurants, artisan shops, public institutions and trade associations, a route along the beaches on the Adriatic coast to the historical towns in the Conca and Marecchia valleys.
Find out more
WELLNESS VALLEY HOSPITALITY
---
BIKE OFFROAD > Tour San Clemente - Valconca
---
Wellness Valley in brief
Land of genuine hospitality and wellness, where people are welcomed with a smile
Enjoy your stay
in one of the selected wellness hotels
Selected facilities
History and Culture Time
Let yourselves be captured by art
World Heritage monuments
Bike lovers?
Romagna has been always devoted to cycling
Cycling routes
Let's discover Romagna
A unique land from the sea to the hinterland
Kilometres of coastline
Uncontaminated nature
Relax in its green parks
Parks and nature reserves
Fascinating challenges on the green
For all the golf lovers
Golf Club
Live Romagna
Events, Culture and Activities
Internationally interesting places
It's impossible to get bored
Great emotions, events and adrenaline
Amusement parks
Fitness programmes
For those who love wellness
Thermal resorts