TREKKING > Tour Acquacheta
Request Info
---
Tour Acquacheta
TREKKING
Canoa a San Benedetto in Alpe
Cascata Acquacheta
Cervi delle foreste casentinesi
Info and start:
km: 12
difference in altitude: 500 mt
category: trekking
Road surface: trails
Signs: CAI 407 - CAI 409
Departure:
Via Acquacheta 2
43.98201, 11.68656
---
Download KML file
Download GPX file
---
Route details
San Benedetto in Alpe - Mollino dei Romiti - Cascata Acquacheta - Balze Trafossi - Monte di Londa - Prato Andreaccio - San Benedetto in Alpe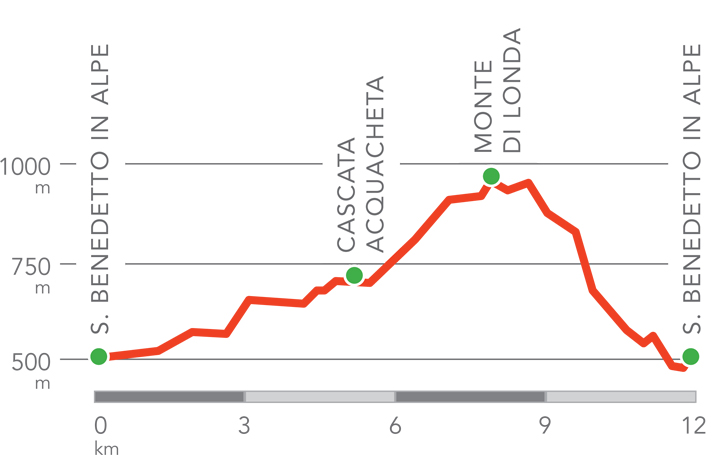 The destination of this itinerary is one of the best renowned waterfalls in Emilia-Romagna, which pours down from a magnificent marnstone-sandstone sloping cliff. A force of nature which is also the result of a sort of "fluvial drainage", carried out around the year one thousand by a settlement of Benedictine monks. This route is a classic excursion on the Appennines between Tuscany and Emilia Romagna and it winds through an uncultivated valley, accompanied by the rumbling of the stream, following the path taken by Dante during his exile from Florence.
Not to be missed:
the waterfall is a true masterpiece of nature. When water levels are high the scene is impressive also thanks to the roaring noise of water, which explains the " acoustic" comparison made by"Dante with the "infernal" Flegetonte.
PLACES OF INTEREST
1 -
Abbazia di San Benedetto in Alpe

One of the most ancient abbeys on the Appennine: There is documentation of the existence of a group of hermits dating back to the X century. This is where, 100 years later, Saint Romuald stopped before moving further south and founded the Camaldoli Hermitage.
Find out more
2 -
The Casentinesi Forest Visitors Centre

The theme of interest of the Visitors Centre at Premilcuore is the theme of the fauna inhabiting the woods, the glades and watercourses on the territory of the Park.
Find out more
3 -
The Romiti Mill

Grindstones in this ancient construction are still present and the water pipeline is well visible. A centuries-old beech stands a short distance away.
Find out more
4 -
The Acquacheta Waterfall

Circondata da una foresta di querce, castagni, faggi e sempreverdi questa splendida cascata ha conquistato la fama grazie alla citazione letteraria di Dante Alighieri che soggiornò a lungo in questa zona.
Find out more
5 -
The "Alta Via" trail of the Parks
A long walk through the northern Appennines, reaching 10 provinces and uniting National and regional Parks. The route is about 500 km long, and boasts some of the most suggestive stretches in the Casentinesi Forest Park.
Find out more
6 -
The Casentinesi Forest National park
One of the most impressive forest complexes in Europe, marked by extremely ancient routes connecting northern and central Italy and dotted with Reserves and protected areas of great naturalistic and environmental value.
Find out more
7 -
The forest and its civilization
Mountains dotted with houses hidden behind trees, remote churches, fields reconquered by nature. Until a few decades ago this territory was inhabited by people who had learned to coexist with the forest and the mountains.
Find out more
---
TREKKING > Tour Acquacheta
---
Wellness Valley in brief
Land of genuine hospitality and wellness, where people are welcomed with a smile
Enjoy your stay
in one of the selected wellness hotels
Selected facilities
History and Culture Time
Let yourselves be captured by art
World Heritage monuments
Bike lovers?
Romagna has been always devoted to cycling
Cycling routes
Let's discover Romagna
A unique land from the sea to the hinterland
Kilometres of coastline
Uncontaminated nature
Relax in its green parks
Parks and nature reserves
Fascinating challenges on the green
For all the golf lovers
Golf Club
Live Romagna
Events, Culture and Activities
Internationally interesting places
It's impossible to get bored
Great emotions, events and adrenaline
Amusement parks
Fitness programmes
For those who love wellness
Thermal resorts