TREKKING > Tour Bagno Romagna
Request Info
---
Tour Bagno Romagna
TREKKING
Tour Bagno Romagna
Palazzo del Capitano
Lago di Acquapartita
Info and start:
km: 15,5
difference in altitude: 800 mt
category: trekking
Road surface: unmade roads, trails, asphalt
Signs: CAI 193 - CAI 201 - CAI 189
Departure:
Via Garibaldi
43.85826, 11.97717
---
Download KML file
Download GPX file
---
Route details
San Piero in Bagno - Corzano - Monte Castelluccio - Monte Carpano - Bagno di Romagna - San Piero in Bagno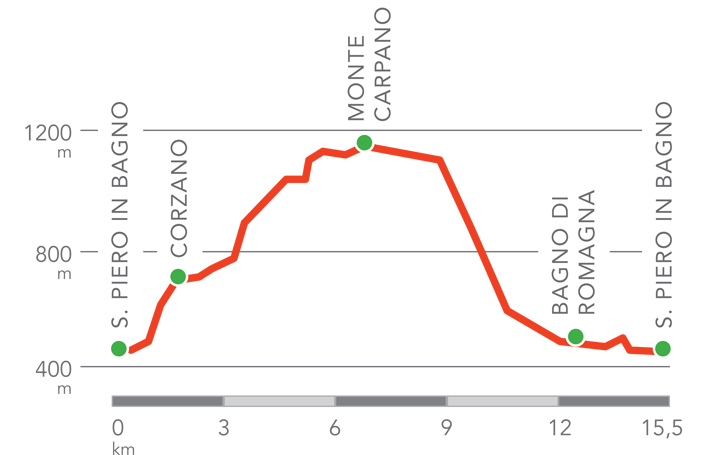 Though very close to inhabited areas in the upper valley of the Savio river, in just a few kilometres, this route offers the gift of remarkable views of the landscape, intercalated by the historical testimonies of ancient religious buildings - the Sanctuary of Corzano, above San Piero in Bagno - or municipal buildings – The Captain's Palace in Bagno di Romagna. The uphill slope from San Piero in Bagno winds up decidedly to one of the most enjoyable ridges in the upper Savio Valley. The downhill slope wich leads to the valley is a road from past times as testified by the boundary stones marking this part of the route: the"Mulattiera di Pietrapazza (the Mule-track in Pietrapazza), leading to far-away Ridracoli.
Not to be missed:
an unparalleled landscape for the vastity of the panorama the stretch along the crest of Mount Carpano, with the possibility to go further up to the even more panoramic peak, at an altitude of 1130 m.
PLACES OF INTEREST
1 -
The Corzano Sanctuary

On this hill (678 m above sea level), nature, faith and history are intertwined in a suggestive manner. The Sanctuary was erected in mid nineteenth century to worship and preserve the image of the "Madonna with the child ", found inside a small church among the ruins of a castle belonging to the Count Guidi di Bagno family.
Find out more
2 -
Mount Carpano

A panoramic balcony, with a view over the Appennine ridge between Tuscany and Romagna, northbound- westbound to Falterona, where the Arno river originates. A myriad of suggestive gorges and small valleys ascending from the valley, while the imposing Mount Fumaiolo from which the Tevere originates can be spotted southeast.
Find out more
3 -
The Casentinesi Forest National Park

One of the most impressive forest complexes in Europe, marked by ancient tracks connecting north and central Italy and dotted with Reserves and protected areas of great naturalistic and environmental value.
Find out more
4 -
The Chiardovo spring

An ancient spring of fresh sulphur-bicarbonate, oligomineral water, famous for its beneficial effects on health.
Find out more
5 -
Natural spas
The thermal waters of Bagno di Romagna have been renowned since Roman times, their origins being considered of divine origin. The fruit of a particular geothermiacal process, three thermal establishments are supplied by these waters.
Find out more
6 -
The Raviggiolo
Bagno di Romagna is one of the places where this fresh cheese from unpasteurized milk is produced. Manufactured in a traditional manner, thus in limited quantities, was glorified by Pellegrino Artusi.
Find out more
WELLNESS VALLEY HOSPITALITY
---
TREKKING > Tour Bagno Romagna
---
Wellness Valley in brief
Land of genuine hospitality and wellness, where people are welcomed with a smile
Enjoy your stay
in one of the selected wellness hotels
Selected facilities
History and Culture Time
Let yourselves be captured by art
World Heritage monuments
Bike lovers?
Romagna has been always devoted to cycling
Cycling routes
Let's discover Romagna
A unique land from the sea to the hinterland
Kilometres of coastline
Uncontaminated nature
Relax in its green parks
Parks and nature reserves
Fascinating challenges on the green
For all the golf lovers
Golf Club
Live Romagna
Events, Culture and Activities
Internationally interesting places
It's impossible to get bored
Great emotions, events and adrenaline
Amusement parks
Fitness programmes
For those who love wellness
Thermal resorts