TREKKING > Tour del Carnè
Request Info
---
Tour del Carnè
TREKKING
Tour del Carnè
Tour del Carnè
Tour del Carnè
Info and start:
km: 6
difference in altitude: 235 mt
category: trekking
Road surface: unmade roads, trails, asphalt
Signs: CAI 511 - CAI 511A - CAI 511B
Departure:
Centro Visite Cà Carnè
44.22671, 11.73982
---
Download KML file
Download GPX file
---
Route details
Rifugio Cà Carnè - Croce di Rontana - Vespignano - Via Castelnuovo - Rifugio Cà Carnè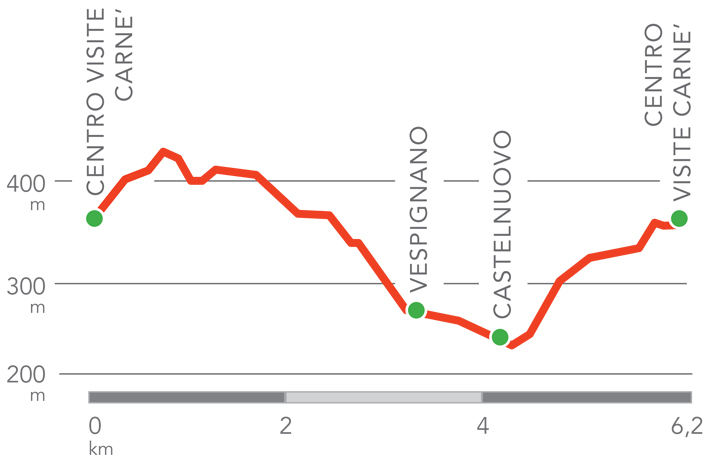 An easy itinerary along the ridges between the valleys of the Lamone and Sintria rivers. Gypsum crests in Castelnuovo overlook a dolina, a typical morphological formation from the Vein of Gypsum Park. From the cliffs exposed to the south you can admire the characteristic vegetation of the Gypsum with wide spots of Mediterranean scrubland. In this stretch of land, with a bit of luck, you may find porcupine quills, the long tufts of hair made into spiny clumps.
Not to be missed:
The Visitors Centre at the Cà Carnè Refuge is a site rich in information (in particular on fauna) and suggestions for Park guests to visit: in the surrounding areas numerous karstic clefts, mostly high-rising abysses – suitably fenced– can be found and special surface phenomena, such as candle-erosions, which can be visited by going down the new "Abyss trail". The Refuge restaurant is a must-try, with many exclusive local products.
PLACES OF INTEREST
1 -
The Cà Carnè Refuge Visitor Centre

An information point at the centre of the Vena del Gesso park, it also proposes a naturalistic museum dedicated to the fauna in the Park.
Find out more
2 -
Mount Rontana
A small hill (484 m) acting as a watershed between the valley of the Sintria and the Lamone rivers. Near the Cross marking the top, a fortress can be found which dates back to the year 1000
Find out more
3 -
Alta Via dei Parchi

A long trail in the Northern Appenine, reaching 10 provinces and uniting National and regional Parks. The route, about 500 km long, in the Gypsum Vein Park reaches its minimum altitude above sea level.
Find out more
4 -
The Gypsum Vein Regional park

A spectacular silvery grey ridge interrupting the first gentle hill contours conferring a unique aspect to the landscape. The Romagnola Gypsum Vein is the only entirely gypsum geological formation in Europe.
Find out more
5 -
The Tanaccia cave
A few steps from Carnè, visiting the Tanaccia Cave you really access the Gypsum Vein Park, exploring the cave with the speleological guided tour which can be booked at the visitors centre.
Find out more
7 -
Brisighella
A medieval Borgo embedded in nature, a spa resort and high-quality enogastronomic district, Brisighella has all the potential to be presented as a town for fine living. The Fortress houses the archaeological museum "Men and Gypsum", with all the findings of the Park territory.
Find out more
---
TREKKING > Tour del Carnè
---
Wellness Valley in brief
Land of genuine hospitality and wellness, where people are welcomed with a smile
Enjoy your stay
in one of the selected wellness hotels
Selected facilities
History and Culture Time
Let yourselves be captured by art
World Heritage monuments
Bike lovers?
Romagna has been always devoted to cycling
Cycling routes
Let's discover Romagna
A unique land from the sea to the hinterland
Kilometres of coastline
Uncontaminated nature
Relax in its green parks
Parks and nature reserves
Fascinating challenges on the green
For all the golf lovers
Golf Club
Live Romagna
Events, Culture and Activities
Internationally interesting places
It's impossible to get bored
Great emotions, events and adrenaline
Amusement parks
Fitness programmes
For those who love wellness
Thermal resorts