TREKKING > Tour Monte Mauro
Request Info
---
Tour Monte Mauro
TREKKING
Monte Mauro
Tour Monte Mauro
La Vena del Gesso presso Monte Mauro
Info and start:
km: 12
difference in altitude: 880 mt
category: trekking
Road surface: unmade roads, trails
Signs: CAI 513 - CAI 511
Departure:
Via Lame, 8 - Zattaglia
44.23282, 11.71173
---
Download KML file
Download GPX file
---
Route details
Zattaglia - Castellina - Borgo dei Crivellari - Monte della Volpe - Pieve di S. Maria in Tiberiaco - Zattaglia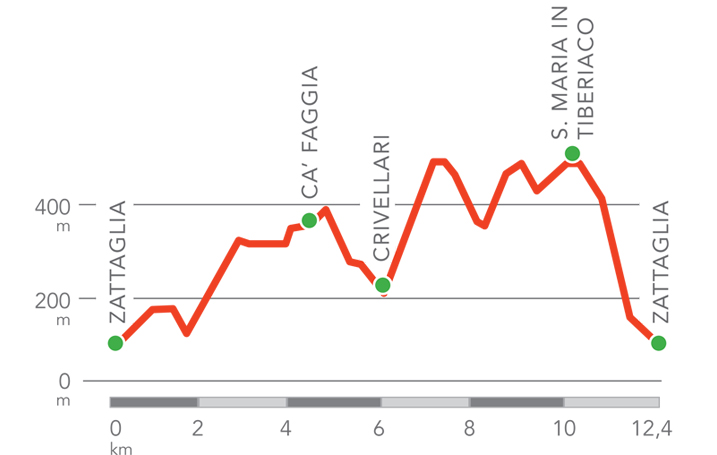 Mount Mauro is the highest peak in the Gypsum Vein Park and is surrounded by the spectacular crests this itinerary winds through, enabling you to discover all the significant aspects of the Park. From here on clear days the view reaches out to the sea, while to the south, the Sintria and Senio valleys, appear to be decorated as in a palette , by vineyards , orchards and pastures separated by maquis and bushes. Walking on the "Gypsum crest", between April and May you can admire the wonderful blossoming of wild orchids.
Not to be missed:
from one panorama to another, along the route roman lapis specularis mines can be encountered, dating back to the I and II century A.D.., for the extraction of shiny and precious secondary gyspum crystals, used instead of glass to build windows in the Imperial age.
PLACES OF INTEREST
1 -
Cheilanthes persica

This extremely rare plant (which only grows there in Italy) is the botanic emblem of the Park. It grows on the most inaccessibile crags, together with other species suitable for arid and inhospitable environments, in particular on gypsum crags exposed to the south.
2 -
The Gypsum Vein Regional park
A spectacular silvery grey ridge interrupting the first gentle hill contours conferring a unique aspect to the landscape. The Romagnola Gypsum Vein is the only entirely gypsum geological formation in Europe.
Find out more
3 -
Lapis Specularis

Lapis specularis is a secondary gypsum, with large transparent crystals, easily divided into flat sheets. Nicknamed "the stone glass ", starting from Roman Age it has been used as a transparent element for windows.
Find out more
4 -
The Crivellari hamlet

The ancient and pictureseque hamlet entirely made on and of gypsum is one concrete example of how man and nature are intimately connected in this territory and is an authentic and unique testimony of gypsum culture and civilization, with its original houses built with gypsum and fern and dating back to the XIII century. Once highly inhabited, today it is inhabited by only a few families.
5 -
The Bandit Cave
A small cave of great archaeological interest. It dates back to the ancient bronze age - XXIII-XVIII century. B.C.- and was used for funerary rites. This is where ceramic fragments have been found of food containers and special earthenware colanders. In more recent times it has also been used by shepherds as a shelter during temporary transfers, and its name derives from legends and stories narrated in this territory.
6 -
Mount Mauro
It is the highest peak in the Gypsum Vein (515 slm) and its profile stands out unmistakably compared to the surrounding hills in the Sintria valley. It houses some ruins and the remains of an acient castle and a recently renovated Church, the Parish of St .Mary in Tiberiaci dating back to before the year one Thousand.
7 -
Shallots from Romagna PGI

Onion bulbs, cultivated on these hilly soils that tend to be of clayey. The bulbs are tasty, aromatic and delicate, and can guarantee a unique and special gastronomic role to products.
Find out more
9 -
The Regional Speleological Federation of Emilia-Romagna.

A federation gathering together all the speleological groups in the Region, particularly active in the Gypsum Vein, which is the most important karstic site in Emilia-Romagna. It is actively committed to the spreading of the world of Gypsum Vein caves. The hypogeum is not only rich and complex but it is also an essential part of the mountain and its territory.
Find out more
---
TREKKING > Tour Monte Mauro
---
Wellness Valley in brief
Land of genuine hospitality and wellness, where people are welcomed with a smile
Enjoy your stay
in one of the selected wellness hotels
Selected facilities
History and Culture Time
Let yourselves be captured by art
World Heritage monuments
Bike lovers?
Romagna has been always devoted to cycling
Cycling routes
Let's discover Romagna
A unique land from the sea to the hinterland
Kilometres of coastline
Uncontaminated nature
Relax in its green parks
Parks and nature reserves
Fascinating challenges on the green
For all the golf lovers
Golf Club
Live Romagna
Events, Culture and Activities
Internationally interesting places
It's impossible to get bored
Great emotions, events and adrenaline
Amusement parks
Fitness programmes
For those who love wellness
Thermal resorts