TREKKING > Tour Montebello
Request Info
---
Tour Montebello
TREKKING
Tour Montebello
Tour Montebello
Castello Montebello
Info and start:
km: 13,5
difference in altitude: 300 mt
category: trekking
Road surface: unmade roads, trails, asphalt
Signs: CAI 03 - 03A
Departure:
Via Santarcangiolese, Ponte Verucchio
43.98297, 12.40426
---
Download KML file
Download GPX file
---
Route details
Ponte Verucchio - Montebello (counterclockwise) - Saiano - Ponte Verucchio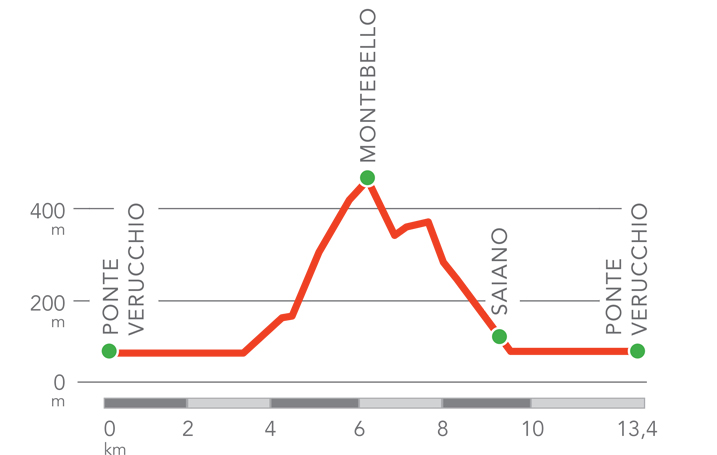 Easy and gratifying ring route on the first bastions in the Valmarecchia, with ancient perched settlements characterizing this landscape. The latin toponymous of the Montebello hill is Mons belli, i.e. war Mount and it hints at the tumultuous historical events. This is the boundary territory between the lands ruled by the Montefeltro and the Malatesta Seignories. Secular plants act as guardians to the Castle, made famous by the legend of Azzurrina.
Not to be missed:
Looking for a complete panoramic view of the lower part of Valmarecchia? This is the right itinerary.
PLACES OF INTEREST
1 -
Valmarecchia

Valmarecchia originates in Tuscany and its river flows until it reaches Rimini. It is a valley rich in places of historical and archaeological interest, among which watch towers dating back to the Roman age, which dot its course.
Find out more
2 -
Naturalistic Observatory Valmarecchia

Centre for Environmental Education which presents the different natural habitats of Valmarecchia and their evolution.
Find out more
3 -
The Montebello Castle

This mighty fortress, once the theatre of numerous battles, today silently offers a wonderful panorama of the Valmarecchia; marked by a thousand years of history, it is well-known for its legend and mysteries.
Find out more
4 -
The Sanctuary of Madonna di Saiano

name takes us back to the ancient Romans who called it "Saxum Jani- Janus's Stone"; it probably housed a pagan temple dedicated to him. Saiano is the isolated rocky spur rising up from the waters of the Marecchia river. The Sanctuary is still worshipped by people today for its miraculous Madonna of the Rosary. The sanctuary has been recently enriched with the writing" The door collecting sunsets " which Master Tonino Guerra described in his own words as follows: "This is the door which captures all the sunsets in the Valmarecchia and keeps them warm even when it is foggy and the sky is grey." Made by Arnaldo Pomodoro, this sculpture grasps essentiality exerting a strong emotional impact.
Find out more
5 -
Piadina Romagnola IGP
A simple food which over the centuries has unified and identified Romagna as the land of good food, making it world famous.
Find out more
WELLNESS VALLEY HOSPITALITY
---
TREKKING > Tour Montebello
---
Wellness Valley in brief
Land of genuine hospitality and wellness, where people are welcomed with a smile
Enjoy your stay
in one of the selected wellness hotels
Selected facilities
History and Culture Time
Let yourselves be captured by art
World Heritage monuments
Bike lovers?
Romagna has been always devoted to cycling
Cycling routes
Let's discover Romagna
A unique land from the sea to the hinterland
Kilometres of coastline
Uncontaminated nature
Relax in its green parks
Parks and nature reserves
Fascinating challenges on the green
For all the golf lovers
Golf Club
Live Romagna
Events, Culture and Activities
Internationally interesting places
It's impossible to get bored
Great emotions, events and adrenaline
Amusement parks
Fitness programmes
For those who love wellness
Thermal resorts