TREKKING > Tour Pietrapazza
Request Info
---
Tour Pietrapazza
TREKKING
Tour Pietrapazza
Tour Pietrapazza
Crinali dell'Appennino
Info and start:
km: 10,5
difference in altitude: 700 mt
category: trekking
Road surface: trails
Signs: CAI 205 - CAI 207 - CAI 221
Departure:
Pietrapazza
43.83977, 11.89886
---
Download KML file
Download GPX file
---
Route details
Pietrapazza - Siepe dell'Orso - Poggio della Bertesca - Fonte delle Cavalle - Eremo Nuovo - Pietrapazza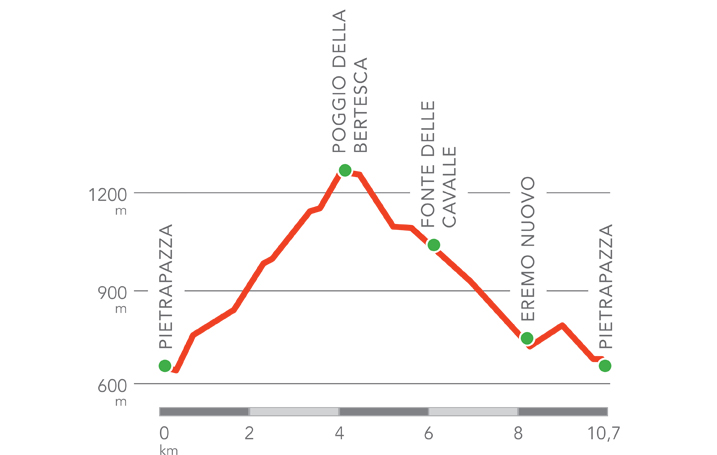 An evocative excursion in the Casentinesi Forest Park thanks to the encounter with its many and varied natural environments, from the arid ridge to the wooded valleybottom to the millenary beech wood and white spruce trees. The route enables you to cover a great panoramic area, both for the exposed ridges and the slopes with the Riodolmo and the Bidente rivers embanked between steep rocky and wooded versants. The extremely small hamlet in Pietrapazza completes this human and natural fresco, which man has abandoned after making it homely with the efforts of over a hundred years.
Not to be missed:
close to its old houses and on the bridges surrounding Pietrapazza, the emotion of walking on mule-tracks consumed by the passage of thousands of wanderers, coalmen, farmworkers and woodcutters.
PLACES OF INTEREST
1 -
Pietrapazza

Nestled in the wild and melancholic valley of the Bidente river in Pietrapazza, this hamlet has been witness to an ancient and heroic anthropization. In 1900 the village was inhabited by hundreds of inhabitants, but it has been gradually abandoned. This is where descendants of ancient inhabitants gather on the first Sunday in September, to celebrate together.
Find out more
2 -
The Casentinesi Forest National park
One of the most impressive forest complexes in Europe, marked by extremely ancient routes connecting northern and central Italy and dotted with Reserves and protected areas of great naturalistic and environmental value.
Find out more
3 -
The Park Animals

This part of the Park distinguishes itself for the great richness and variety of its fauna, the vastness of its wooded area and a non-existent population density. Encounters with large ungulates or wolves are not unusual.
Find out more
4 -
The "Alta Via" trail of the Parks

A long walk through the northern Appennines, reaching 10 provinces and uniting National and regional Parks. The route is about 500 km long, and boasts some of the most suggestive stretches in the Casentinesi Forest Park.
Find out more
5 -
The valley and its civilization
At the beginning of the 1900 this territory was populated by hundreds of inhabitants who had learned how to coexist with the forest and the mountain.
Find out more
7 -
Tortello alla Lastra
A traditional recipe, typical of this valley, an resourceful and cheap main course which can still be enjoyed today.
Find out more
WELLNESS VALLEY HOSPITALITY
---
TREKKING > Tour Pietrapazza
---
Wellness Valley in brief
Land of genuine hospitality and wellness, where people are welcomed with a smile
Enjoy your stay
in one of the selected wellness hotels
Selected facilities
History and Culture Time
Let yourselves be captured by art
World Heritage monuments
Bike lovers?
Romagna has been always devoted to cycling
Cycling routes
Let's discover Romagna
A unique land from the sea to the hinterland
Kilometres of coastline
Uncontaminated nature
Relax in its green parks
Parks and nature reserves
Fascinating challenges on the green
For all the golf lovers
Golf Club
Live Romagna
Events, Culture and Activities
Internationally interesting places
It's impossible to get bored
Great emotions, events and adrenaline
Amusement parks
Fitness programmes
For those who love wellness
Thermal resorts