TREKKING > Tour San Leo
Request Info
---
Tour San Leo
Trekking
Tour San Leo
Tour San Leo
Rocca di San Leo
Info and start:
km: 11
difference in altitude: 670 mt
category: trekking
Road surface: unmade roads, trails, asphalt
Signs: CAI 017/A - CAI 95 - CAI 017
Departure:
Ponte S. Maria Maddalena, Strada Provinciale Marecchia
43.93466, 12.3444
---
Download KML file
Download GPX file
---
Route details
Ponte S.Maria Maddalena - Sant'Igne (counterclockwise) - San Leo - Tausano - Monte Fotogno - Ponte S.Maria Maddalena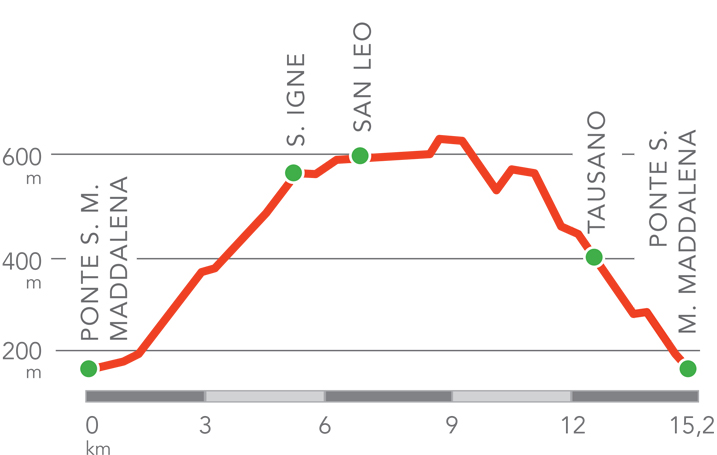 Town parks, fortified walls and the historical centre, a Unesco World Heritage. A town on a human scale, made for movement surrounded by nature and the architectural Renaissance beauties of the Estense family.
Not to be missed:
reaching Piero della Francesca's Balconies and observing the panorama is a special and exciting experience. As in the ancient noble portraits by this artist, each visitor can plunge into the landscapes of sixteen century paintings.
PLACES OF INTEREST
1 -
Valmarecchia

Valmarecchia originates in Tuscany and its river flows until it reaches Rimini. It is a valley rich in places of historical and archaeological interest, among which watch towers dating back to the Roman age, which dot its course.
Find out more
2 -
The St. Igne Convent

The convent is a solitary place , a hidden pearl in the medieval religious architecture of San Leo. The convent stretches over greenery with its light-coloured stone complex, in complete silence. The legend has it that St. Francis got lost in the forest and only thanks to a divine light, perhaps a fire (from here Igne of latin origin) , managed to find his way out. The founding, attributed to the Saint, dates back to the XIII° century and today it is a place of mystical reflection amid the wonders of its architecture.
Find out more
3 -
San Leo

A wonderful art capital, mentioned by Dante Alighieri in the Divine Comedy, it is the fulcrum of the historical Montefeltro region. Getting lost here is pure pleasure, amid the heart of its quarters, descending into the misteries of the fortress, leaning against its lordly walls, abandoning oneself to the beauty of its churches. These are emblems of Romanesque architecture, the Parish church, is an excellent example of medieval sacred art and dates back to the IX century. The cathedral, among the most important monuments from Romanesque Romagna, is dedicated to St. Leon, patron saint of the diocese, and is placed between the pre-Romanesque parish church and the bell tower. These buildings were part of a single episcopal complex.
Find out more
4 -
Renaissance views

Right amid the peaks and limestone cliffs in Valmarecchia, the masterpieces of some of the greatest artists from Renaissance took shape. "Piero's balconies" recreate the painted landscapes chosen by Piero della Francesca as backgrounds for his works of art.
Find out more
Video
5 -
The Rocky Tanks of Valmarecchia
An emblematic and unique expression of prehistoric rocky archaeology, the testimony of extremely ancient human passage in the Valmarecchia.
Video
WELLNESS VALLEY HOSPITALITY
---
TREKKING > Tour San Leo
---
Wellness Valley in brief
Land of genuine hospitality and wellness, where people are welcomed with a smile
Enjoy your stay
in one of the selected wellness hotels
Selected facilities
History and Culture Time
Let yourselves be captured by art
World Heritage monuments
Bike lovers?
Romagna has been always devoted to cycling
Cycling routes
Let's discover Romagna
A unique land from the sea to the hinterland
Kilometres of coastline
Uncontaminated nature
Relax in its green parks
Parks and nature reserves
Fascinating challenges on the green
For all the golf lovers
Golf Club
Live Romagna
Events, Culture and Activities
Internationally interesting places
It's impossible to get bored
Great emotions, events and adrenaline
Amusement parks
Fitness programmes
For those who love wellness
Thermal resorts